What a week. From the sounds of it, some of you back home may have gained an extended weekend. Enjoy it! We don't have too many plans for the weekend here, so without further ado, I'll leave you with a list of my favorites for the week. Enjoy!
Favorite Chicken Dish. Honey Sriracha Chicken by Simply Reem. The photos. The flavors. This looks amazing.
Favorite Pizza. Deep Dish Pizza – Chicago Style by Chew Out Loud. There are no words. We have been obsessed with Chicago style pizza since high school. Being a CI's recipe, this pizza has to be awesome!
Favorite DIY. Chunky Floating Shelves for $15 by Welcome to My Desert Domicile. I have been wanting to add something like this to our powder room downstairs and our extra bathroom for awhile. Wonder if I can adapt them to a space that wouldn't have walls enclosing them on the sides?
Favorite Cookies. Soft Batch Dark Brown Sugar Coconut Oil Cookies by Averie Cooks. I am slow to join the coconut oil train, as I just bought my first container of it a couple days ago. These look like a great first recipe.
Favorite Funny seen on sphotos. Amazing huh?
Favorite Easter Craft/Food. Chocolate Covered Carrot Strawberries by Sugar Bean Bakers. I can't even. So cute!
Favorite Drink. The Perfect Margarita Recipe by House and Home. Got to love a 3 ingredient recipe (4 if you count the salt) for this cocktail!
Favorite Backyard Idea. Triple Hammock on Natural Playgrounds Company. I can only imagine how much time I would spend on these as an adult much less as a child. Backyard camping anyone?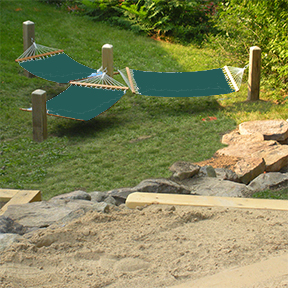 Favorite Banana Bread. Whole Wheat Banana Bread with Coconut Cinnamon Streusel by How Sweet It Is. I am all about streusel this week with the pancakes I posted on Monday. This is another coconut oil recipe. Looks like I have myself a regular little cooking list.